Diving in Finland
Only a few other countries in the world have an archipelago like Finland. Especially beautiful are the isles and islets all along the Finnish south and southwest coast. The archipelago is scraped clean by glacial action during the ice age. Innumerable ice-worn rocks and sandpits are still slowly raising from the shallow sea as the land rises a few inches in a century. It is a safe guess that there are over sixty thousand islands.
For divers this means access to sheltered locations regardless of the weather, and many islands where nobody has dived before. The salinity of the seawater is low, tide is not noticeable and strong currents don´t exist. During the summer the visibility varies from four to 15 meters. The weather is fairly dry and water temperature at the surface may rise up to 18-20 celsius degrees in July.
Days are long in Finland as our country is also known as the land of the midnight sun at summertime. Deep down, however, the effect of the long, cold winters is felt in a year-round bottom temperature of four celcius. For long deep dives a compelete suit with hood, socks and gloves is necessary. One should also remember that while a drysuit is not necessary it certainly is more comfortable all year round.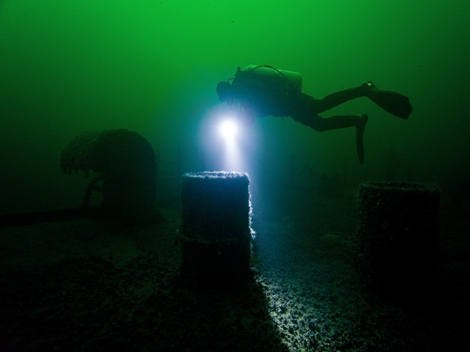 Perhaps the main interest of diving in Finland are the wrecks since we have thousands of wrecks sunken in our waters. Also the wooden ones are often well preserved, because the wood-eating snails (shipworms) do not live in the brackish waters of the Baltic.
Most of the diving here is done by the approximately 9.000 members of Sukeltajaliitto. In Finland there are about 150 diving clubs. Foreign divers are strongly recommended to contact the clubs for information. This way you can get in contact with persons knowing most of the possibilities to dive at a certain area. From club members you also find information of the best places to hire diving equipment and some clubs also arrange one to dive at a reasonable cost.
---